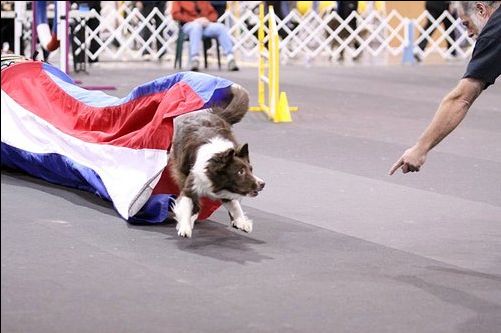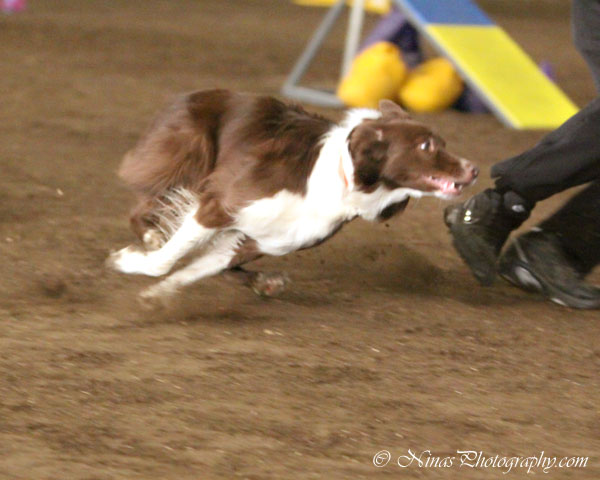 Flash has had some great runs and big wins so far in 2010! Two days in a row he was High in Trial at the Rose City Cluster, and he picked up his first QQ of the year at the Mt. Hood Dobie trial with two 1st Place Runs on Sunday! Video Here! Then at the EAHC trial in February he took 1st Place in a wonderfully smooth jumpers run, then 1st Place in Standard the next day in a huge class with some 60 dogs in Excellent B!
Thanks to photographers Joe Camp, and Nina of Nina's Photography, we got some great pictures too!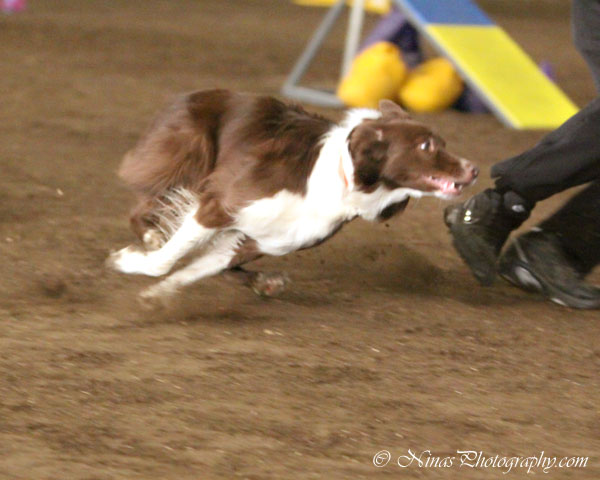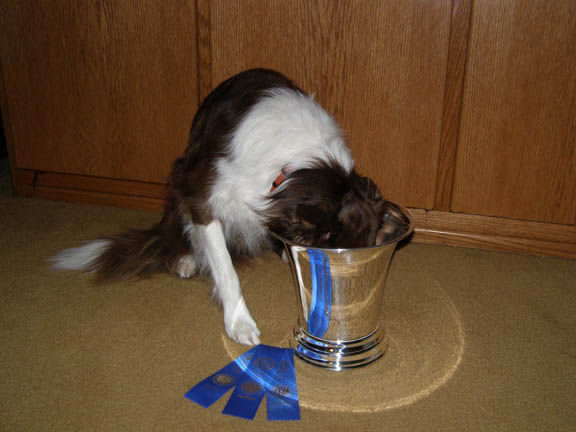 Flash's HIT Award and Three 1st Places from Rose City!
MACH FLASH!!!
Friday, October 9th 2009, after 2 1/2 years of agility trial experience, Flash earned his Master Agility Champion title in AKC Agility! Flash is my very first agility dog, and he truly loves the game!
We had a stunning weekend... the kind you can only dream about. We spent it trialing at the Klamath Dog Fancier's very first AKC Agility Trial, held in a fantastic indoor venue with packed dirt, no dust, great traction, lots of room, good food, great judges, great people, and best friends! Flash took 1st Place in five out of six runs that weekend, in a strong 20" class with some great dogs! One handler bobble caused a back-jump in the last jumpers run of the weekend, or it would have been 6 for 6! To top it of, Flash won the "Time to Beat" exhibition!
HIdden Valley dogs faired extremely well, even taking 4 of the top 5 placements in one class! Huge congratulations to Bindi, who earned her AX and then came right back to take 4th in her first Excellent B run; to Delta, Bindi's mom, one of the fastest BC's in Oregon who loves her game; to Rowdy, who continued to rock with very consistent and fast performances; and to Patch, who is always there knocking on the ribbon door! These dogs can all be seen at HV's Website!
PICTURES:
Right - Flash takes me home with the loot!
Lower Left - Flash during QQ#20 Jumpers
Lwr. Right - Flash crossing the finish line run for his MACH!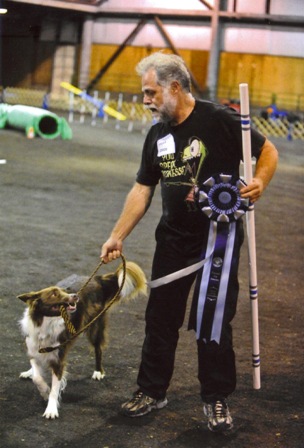 Special thanks to photographer Terry Tuttle!
BELOW: Flash, all business over the triple!
BELOW: Congratulated by Judge Dan Butcher!
Scroll Down!
Donna Polka, Border Collie breeder for over 25 years, regarding Flash:
"I hope you know that Flash is a very special dog. They are not all like him...
and even more, we only have one first agility dog. You are very lucky".
Learn more about Donna Polka's Hidden Valley Border Collies!
The litter Flash is from has an amazing array of titles. See them Here!
See Video of Flash's #19 QQ: "QQ#19 VIDEO! !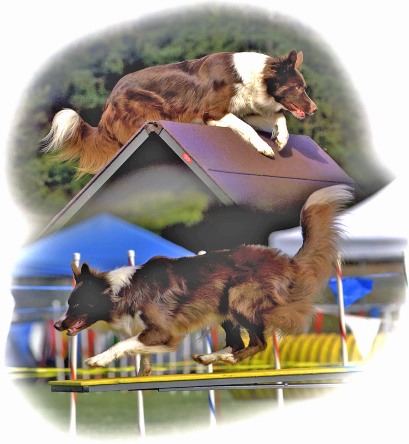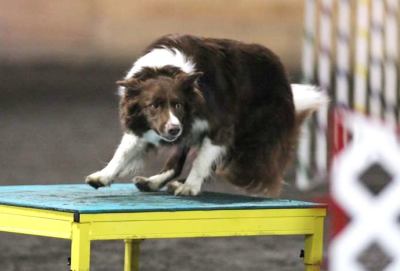 Above: Flash hitting the table into a SIT during his 16th QQ at the AMTC Trial in Argus Ranch, 2009.
Left: From Mt. Bachelor KC trial, Flash earning his AX after his first three months of agility. The teeter picture was selected from among thousands of photos to appear in the 2009 Brown Trout Border Collie Agility Calendar.