March 7th and 8th I judged the American Bloodhound Club's agility trial in Santa Rosa. What a great place, and a fantastic bunch of dog people! I passed on my 2nd Provisional assignment there, so have now made "Excellent Provisional" judge status!
Well... Looks like I have to drop the "Reddog" tag soon! My new puppy was born Sept. 15th and (gasp!) he's Black and White!!!
On May 12th, I passed the AKC New Judge's Seminar in Tulsa Oklahoma and have achieved Provisional Judge status!
Flash earned his MACH3 at the famed Rose City Classic in Portland, Oregon, January 2014!!!
See Video HERE!
The Reddogs Slideshow!
Flash:
Sunny: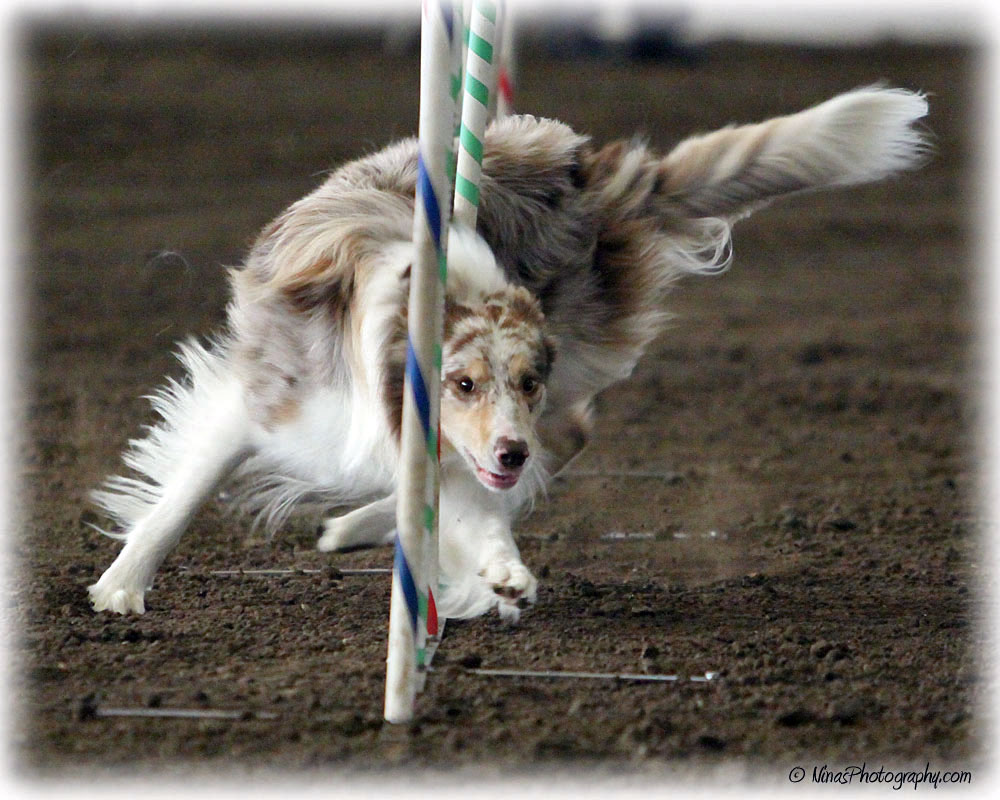 Photograph by Nina's Photography! Visit Nina!
See Video of Flash's other three Blues in K-Falls!
Flash and Sunny are from
Hidden Valley Border Collies, in Oregon.
Flash's Trial Schedule
AKC Klamath Falls Dog Fanciers K-Falls, OR
5/15 - 5/17/2015
Art's Judging Assignments:
Spokane Dog Training Club
Spokane, WA
5/8-5/9
All Open, Novice, T2B
Cavalier King Charles Spaniel Club
Rogue River, OR
5/31/2015
All Novice, Open, Excellent, Master
SVWC
Cabernet
Indoor Sports Arena,
Livermore, CA
7/11- 7/12/2015
Nov/Opn/Ex/Mstr
NW Bearded
Collie Club,
Argus Ranch, WA.
7/24-7/26/2015
1 Judge Trial
Cascade Dachshund Club
Monroe, WA
9/18 - 9/20/2015
All Levels
Hangtown
Kennel Club
Leone Equestrian Center, Sac. CA
9/26 - 9/27/2015
All Levels
Mt. Bachelor Kennel Club
Prineville, OR
10/2 - 10/4/2015
All Levels